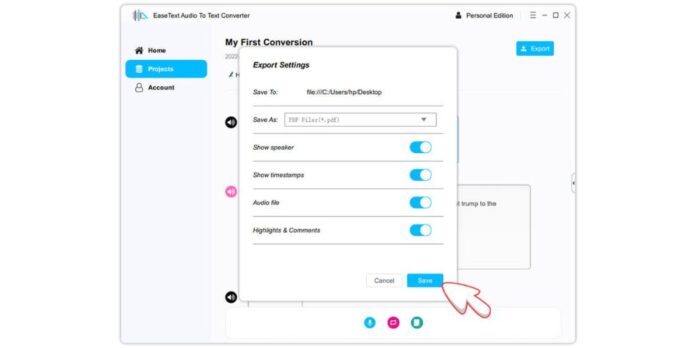 Don't you have enough time to type or write word by word of visual or audio recordings? Want to spread the word about specific audio on social media in text format? Struggling to find a way to record live meetings? No more worries. The EaseText audio to text converter is your go-to solution.
The EaseText can transform any audio into text within a short time span. The user-friendly interface makes anyone get the most out of this software. A person with zero technical skills can benefit from this audio to text converter.
This article aims to guide you through the key features and why you should use this incredible application. Find more details right down.
EaseText: Audio To Text Convertor
EaseText is an innovative tool which allows you to convert audio to text in a more convenient manner. This software is downloadable and supports both Mac and Windows OS. The software does not charge any fees. Rather available entirely free. The things which make EaseText a reputable software are speed of usage and error-free text. A feature-loaded application one must try.
A number of applications exist where you can use this tool. The key ones include:
Academic audio content to textual notes for students
Live video clips audio-to-text transformation in terms of subtitles
Audio-to-text conversion to boost SEO as google records text, not audio
News Transcription or Interview transcription
Why Should You Use EaseText?
A number of advantages contribute to the total worth of the EaseText. Some of the remarkable benefits include the following:
Works Offline
You can use this software while remaining offline. No internet connection needed to perform the audio to text conversion. Sometimes the transcription's main aim is data security and privacy, which EaseText can completely fulfil. Operating offline ensures zero data leakage, especially for high-profile meetings. This is also true for students' lectures or notes. Only you need internet access to download this software.
AI-Based
Artificial intelligence makes this software truly desirable. It adds up to the accuracy and the level of quality that this tool can offer. Now you can work stress-free as there will be no grammar or comprehension errors. Also, you will expect no audio missing within the text. What is said is transcribed through AI technology.
Easy to Use
The structural arrangement and organization of the data within the software are digestible. Everything follows proper organization with understandable icons. This will help you avoid any confusion with the interface. It also enables you to save a lot of crucial time. You can put this time to use in other important activities.
Support Edits
The EaseText allow you to edit the results and proofread them as per your requirement. This way, you can fine-tune the text and make the information more engaging. It is one of the desirable features when it comes to EaseText. It also allows you to add up additional information as per your conception. In the end, EaseText is the best audio to text converter out there.